Between Long Green and San Juan


2001 Update

In January of 1999, Israel Rosas participated in a Church of the Brethren work camp in the Dominican Republic. A two week project in San Juan de la Maguana, working out of the Iglesia de los Hermanos (Church of the Brethren) there, stretched into four (click here for pictures and travelogue of that experience). He returned excited about what the Lord was doing there, and his enthusiasm was contagious. We began informally discussing the possibility of a "sister church" relationship between that congregation and our own.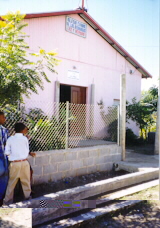 The next step came in April of 2000, when we received a challenge. Would we be interested in helping to fund another work camp, this one building an addition on the San Juan meetinghouse to help this congregation further its mission? (The previous work camp there rebuilt homes destroyed in a flood). Special offerings were taken and we sent nearly $4,000 through our denomination.
Mission is more than money, however, especially when we intend to be mutual about it. Being "sister churches" means that we are siblings, not parent and child. We, in this country, are blessed with great affluence. In comparison with San Juan, our community is filled with great wealth. A temptation is to allow this disparity to color any relationship. The Brethren in the Dominican Republic are wisely cautious about looking to U.S. Brethren for finances, thus creating a pattern of dependency. In reality, our sisters and brothers in San Juan are also rich - rich in what really matters. They are filled with a zeal for sharing the good news of Jesus Christ, in both word and deed. The Holy Spirit overflows. We have much to learn. (Take the time to read through the established goals and guidelines for a "sister church" relationship with this congregation).
In the journey toward a mutual relationship, the subsequent step was ours. Looking ahead to our denominationís Annual Conference - right here in Baltimore in 2001 - we wondered if we couldnít host the pastor of the San Juan church and his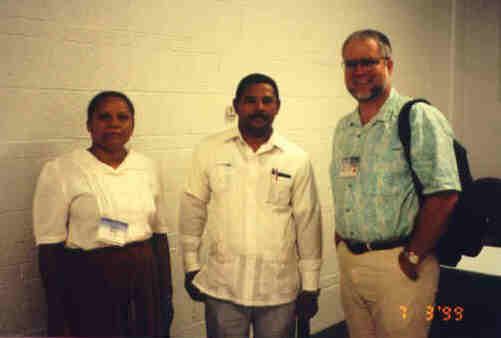 wife, Miguel and Maria Ogando. Would they be interested? Would they be able to stay after conference and meet us, to preach the following Sunday and fellowship with us?
Through Gerald and Rebecca Baile Crouse (Church of the Brethren mission coordinators for the Dominican Republic at that time), we received word that Miguel and Maria "were thrilled to receive (our) invitation and very gratefully accept it." Flight arrangements were quickly made on our end. The Ogandos flew from Santo Domingo to Philadelphia on June 28th. Annual Conference began on June 30th, and ended on July 4th. This was their third Annual Conference. At one point, Miguel was introduced to the whole delegate body, and shared greetings and blessings. "El vive!" he said in closing. "He (Jesus) lives!" They also participated in a couple insight sessions and a daily Bible study group in Spanish.
The following Sunday (July 8th) was, indeed a special worship, receiving the good news from our Dominican brother and sister. For more on that day, visit "Celebrating and Reviving," a webpage on it with pictures. Miguel teaches English at the local high school, but we still needed our own brother Izzy's help in bridging the language barrier. As it turned out, though, in the Holy Spirit we are connected on a much deeper level. In preparation for the time, we learned the Spanish for a few of the songs in our hymnal, such as "Lord, you have come to the lakeshore," so that we were able to praise God in both languages (and make Miguel and Maria feel welcome).
The Ogandos then left from Philadelphia on July 10th, after 13 days which were filled with various opportunities for

contact with other Brethren in the area. However, this was only the beginning of a relationship between us. Beyond this point lay the more formal decision to become sister churches, and what that means for both of us. It was our prayer that, as the 2001 Annual Conference theme stated, God will continue to "Revive us again," both the fellowship here in Long Green, and the congregation in San Juan de la Maguana.
---
visit the Long Green Valley Church page