Worship Order for Sunday
Long Green Valley Church of the Brethren
Long Green & Kanes Rds., near Glen Arm, Md.
June 8, 2014
Worship 10:00 am Sunday School 11:10am

Pentecost

"When the Feast of Pentecost came, they were all together in one place. Without warning there was a sound like a strong wind, gale force—no one could tell where it came from. It filled the whole building. Then, like a wildfire, the Holy Spirit spread through their ranks…" (Acts 2:1-4a from The Message)

Beginning with Praise (9:50 am) "Filled with the Spirit's power" 289
Announcements
Prelude "Prelude in C Major" Bach

Call to Worship Psalm 104:24-35 (Laughing Bird version)

*Hymn "Breathe on me, breath of God" 356

Scripture 1 Corinthians 12:3-13

For Children "Sticking with you"

Video "It's Pentecost"

Sharing a joy, a concern, a word of testimony or praise
(please be brief, and aware of God's listening presence)

Song "Every time I feel the Spirit" (insert)

Returning our Tithes and Offerings

Offertory "Light Divine" Mendelssohn


(Please sign the attendance pad and pass it on)

Scripture Acts 2:1-21

Message "Spreading like a wildfire" (mp3)

*Hymn "O Holy Spirit, making whole" 300

*Postlude "Spanish Chant" Burgoynes Collection
---
*Rise in body or in spirit
#'s are from Hymnal: A Worship Book
Worship leaders - see basic guidelines
1 - O LORD, what a wildly fabulous world!
2 - Working hand in hand with wisdom you have made an earth-full of wonderful creatures.
1 - Just look at the deep wide sea, swarming with life beyond our imagining, from coral to crayfish, from mussels to marlin.
2 - Ships plough the waves, while mythical monsters cavort in the depths.
1 - Like seagulls at a picnic, every creature looks to you for food.
2 - They gather around in eager expectation, and gorge themselves when you open your hand.
1 - If you turned your back, they'd be panic stricken;
2 - if you withdrew your Spirit they would have nothing to breathe, their bodies would quickly crumble.
1 - But when you breathe your spirit into them, life sprouts up fresh and fragrant again and the earth itself is revived.
2 - Glorious is all you do, LORD, may you be honored forever.
1 - May everything created be a joy to the LORD.
2 - One look from the LORD makes even the earth quiver; one touch and even the mountains erupt.
1 - With every breath I will sing to the LORD;
2 - as long as there is life in me, I will give honor to my God in song.
1 - Even my unspoken thoughts I offer to the LORD, for the LORD is a delight to me.
2 - May wickedness be wiped from the earth,
1 - may enemies of life no longer be found.
2 - O bless the LORD, everything within me.
1 & 2 - Praise the LORD!
Psalm 104: 24-34, 35b ©2000 Nathan Nettleton

Spirit, blowing and blazing,
Pentecost wind and Pentecost flame,
Spirit of power, invade this hour.
Blow, Spirit, burn, as when you first came.
Spirit, helping and healing,
our lives are troubled, tense, we confess.
Spirit, draw near us, anoint and cheer us.
Come with your balm to comfort and bless.
Spirit, righteous and holy,
we bring our hearts repentant, contrite.
Spirit forgiving, hallow our living.
Lead us from darkness into your light.
Spirit, vibrant and lively,
waken our wearied spirits, we pray.
Spirit, pursue us, revive, renew us.
Stir us to follow Christ's holy way.
by Kenneth L Gibble, ©1996
#1012 in Hymnal Supplement.
Brethren Press, Elgin, Illinois
For Children
"Sticking with you"
Do you like stickers? I like stickers. This week I went on a hunt for stickers that we could use for today. I wasn't sure exactly what kind of stickers would be appropriate for Pentecost, however. That's what today is, you know. Pentecost. What is Pentecost? Well, let me try to tell this as simply as I can. In the Jewish faith, this is known as the Festival of Weeks, or Shavuot (shah-vu-oht). It celebrates the day that God gave the Torah, his Law, to the people of Israel at Mt. Sinai.
In our Christian faith, Pentecost comes 50 days (thus "Pente," which means "50") after Easter, and it is the day we celebrate God giving the Holy Spirit to us. Later on, we'll hear the story of how it happened from the book of Acts. Our scriptures this morning talk about the Holy Spirit as being like "water" that quenches our thirst. They also describe the Spirit as both "wind" and "fire." (Be listening) So, can you guess what I was looking for in a sticker? I didn't find "water" stickers. Nor did I find any stickers of "wind." I also struck out in finding "fire" stickers, which probably was the easiest, but I didn't succeed? The Bible also says the Spirit is like a "dove," but do you think I could find any "dove" stickers? Nope.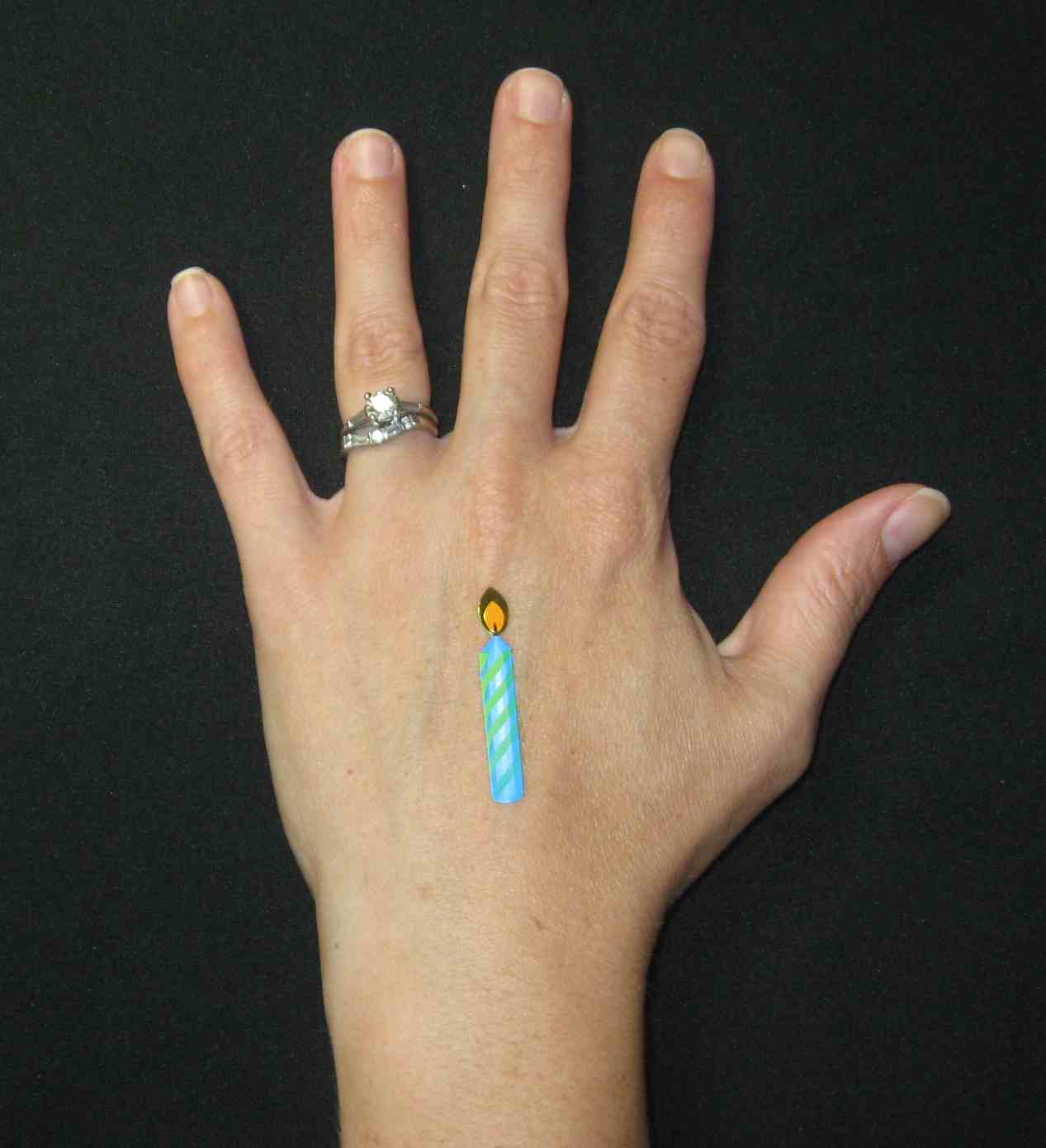 I did, however, find these stickers of lit birthday candles. Actually, these are perfect. There is a flame on each candle, do you see it? And this flame can remind us of the fire of the Holy Spirit. More importantly, these stickers remind us that Pentecost is the birthday of the church. The Holy Spirit was given to us by God for a reason, to help us continue the work of Jesus as his church.
Now I've got a job for you to do right now. I want you to go to everyone in the congregation here and give them a birthday candle sticker. They or you can stick it on the back of one of their hands. This can remind them of the Holy Spirit. They can also remember that today is the birthday of the church. By the way -while these stickers can come off your hand pretty easily, the Holy Spirit sticks with us like glue. God's glue is pretty strong.
Do you understand what you are supposed to do now? Good! I encourage you older folks out there to let them know of your need for a sticker by raising your hand. While you are doing this, we will watch a video. Okay, go out and do what I've asked you to do!
Share!
written closer to the time (if not at the moment)
Returning our Tithes and Offerings
Jesus had some things to say about the Holy Spirit long before Pentecost. Let's hear one of them as recorded in the gospel of John. In the seventh chapter, he and his disciples are in Jerusalem to celebrate the "Festival of Booths." By this point, some folks have become very upset with his teaching, to the point of sending the Temple police to arrest him. It's in this context that we hear the following words of Jesus. Listen.
(pause to indicate scripture reading is beginning)
1 - On the last and most important day of the festival, Jesus stood up and shouted,
2 - (loudly) "If you are thirsty, come to me and drink! Have faith in me, and you will have life-giving water flowing from deep inside you, just as the Scriptures say."
1 - Jesus was talking about the Holy Spirit, who would be given to everyone that had faith in him. The Spirit had not yet been given to anyone, since Jesus had not yet been given his full glory.
(pause to indicate scripture reading has ended)
Pray with me…
Loving Father, you quench our spiritual and emotional thirst through the life-giving love of your son, Jesus Christ. This Pentecost, we immerse ourselves in the river of living water, your Holy Spirit. Receive and multiply our gifts so that all people may experience the security of your ever-lasting love. We pray in the name of Jesus. Amen.
Ushers?
John 7:37-39 is from the Contemporary English Version
Copyright © 1995 by the American Bible Society
Prayer is Copyright © 2014 David S. Bell.
Reprinted with permission from www.DavidSBell.org

(have the acolyte stay up front with you
instead of leaving during the last hymn)
Every now and then we need to be reminded that our candles up front are there to help us become aware of God's steady presence with us in the Holy Spirit. When the acolyte comes forward at the end of the service to quench the candles, this does mean that God's light goes out. Notice, s/he is carrying the light on her/his torch on her/his way through the congregation. What this means is that the fire doesn't stay here. The Holy Spirit goes with you this week. You can't pull it off like a sticker on your hand. But you also can't "pull off" what you are called to do and be followers of Jesus in this world without God's Spirit dwelling within you.
Go and be the church of Jesus Christ
wherever you are this week!
Spread the wildfire!